RunNetEcho
reports that a "Rally for police reforms that took place in the center of Moscow on March 6, 2010 gathered approximately 150-500 activist"and links to three there live Russian bloggers.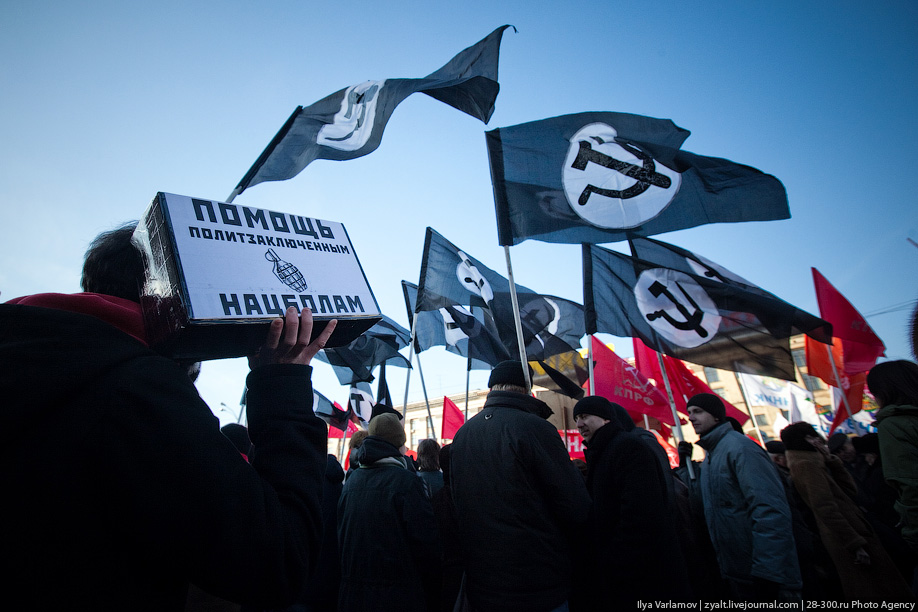 Zyalt,
Phototravel and more,
Фотопутешествия и еще. Translated as
The provocations at the rally for the reform of the MVD
. (text, dozens of superb photos)
Action demanding radical reform of the Ministry of Internal Affairs was held today in Moscow at the Triumphal Square.

In place of the event gathered about 200 people, although organizers said 300.

This rally so would go unnoticed if not for provocation "Nashi". (Этот митинг так бы и остался незамеченным, если бы не провокации "Нашистов".)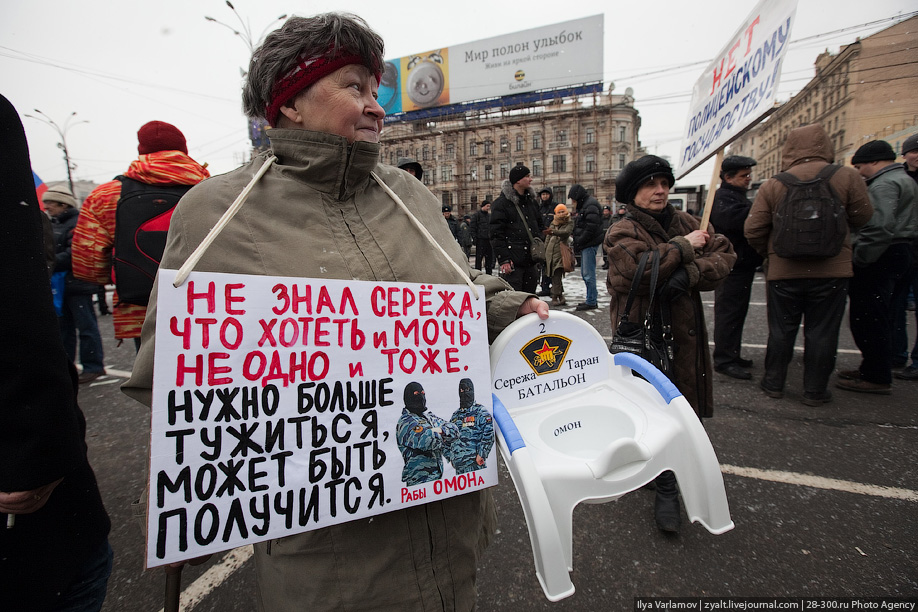 Participants unfurled posters and banners which included Russia People's Democratic Union, "Solidarity", FMG.

On the boards you can see the slogans: "We need another police!", "The police have been under civilian control!"

and many others
When our commissioners raised their banners, several opposition activists attacked them and began to tear
the posters.
seg_o,
Митинг и митингующие
, translated as
The rally and the protesters
. (black and white photos with captions)
This nice lady, gave "the Constitution of Russia" the policemen; "Take it, it is not a bribe!" (

"берите, это не взятка!")

The policeman decided not to take.

Apparently, just in case.
martin_sqare,
Митинг за реформу МВД
, translated as
Rally for reform of the MVD
(Text, Black and white photos)
On Saturday, March 6 at Triumphal Square rally was held human rights activists demanding radical reform of the MVD. The action was attended by the head of the movement "For human rights" Lev Ponomarev, activists of "Change", "Defense", "We", "Solidarity" ("Смена", "Оборона", "Мы", "Солидарность"). There were calls to dismiss the leadership of the Ministry of Internal Affairs and fundamentally change the work of agencies after the reform, including repeal of cane system, improve staff salaries and provide them with social guarantees. At the rally appeared activists of youth movement Nashi, which in the hands held placards that contain criticism of the organizers. Some of them were detained.